Commercial Office Cleaning in Melbourne
At DMD Cleaning, we believe in high-quality workmanship. Office spaces are areas where people from different geographies and homes get together to work, and space requires to be neat and tidy, especially when they return to work the next day to feel fresh and get to work. DMD Cleaning provides excellent workmanship for your office spaces by delivering high-quality cleaning services at the most competitive prices available across Melbourne.
At DMD Cleaning, we employ police-cleared, fully-insured, and highly-reliable cleaners to take care of all your office cleaning requirements. We ensure that the security of your office remains intact. We offer general cleaning, as well as detailed cleaning services for offices. They are as follows: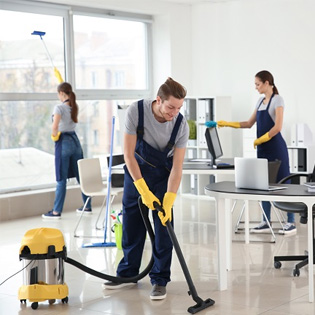 General cleaning includes: Maintain clean reception, office rooms, meeting rooms, cafeteria and lunchrooms, outdoor seating areas, toilets, etc.
More detailed cleaning: steam cleaning, window cleaning, buffing and polishing floors, all of which can be scheduled during holidays or after hours.
Customised Commercial Office Cleaning Services In Melbourne
Every office is unique in the kind of operation and work that can spread during different working and non-working hours of the day. We at DMD Cleaning understand the necessity and working pattern of your offices and hence we cater to all working time requirements. We always have in place a structured work plan for your commercial office cleaning requirements.
At DMD Cleaning, for commercial office space cleaning services, we make sure that following our initial meeting with our clientele for their office space cleaning needs, we provide them with individual cleaning checklists, as well as scopes that represent the duration and costs so that they know exactly what work will be carried out, and by when it will be finished and clean, without any last-minute cost overhead surprises!
Why Choose DMD Cleaning Services For Commercial Office Cleaning Requirements?
At DMD Cleaning, we know that clean office environments impact the working of employees with positive outcomes. We, therefore, focus on providing in your office space a clean, safe and hygienic environment that can play an important role in the employee's minds to help the employees feel valued and positive, as well. Since every business or commercial environment or office space has a unique set of operating conditions, we at DMD Cleaning offer a service-based round-the-clock. So, wherever you are in Melbourne, call us and we are at your office doorstep to deliver you with the best office cleaning experience across Melbourne.
Being experts in the field of facility management services and customised commercial cleaning services for residential, commercial, and industrial purposes for over years now, we at DMD Cleaning have evolved as the most sought-after cleaning services provider across Melbourne. Be it a small office space or a retail outlet, a multi-site facility, or a multi-story building, we at DMD Cleaning offer you the best cleaning services at the most affordable prices across Melbourne.
Call us at 0449 721 600 and we are at your doorstep. You can also mail us at info@dmdgrp.com.au to get your free quote. Grab yours today!
Affordable Cleaning Company Near You
At DMD Cleaning, we strive to make your premises look tidy and brand new with our exquisite cleaning services. So, if you are on the lookout for the finest and most affordable cleaning company near you, drop us a call at 0449 721 600 and we are at your doorstep. You can also mail us at info@dmdgrp.com.au to get your free quote. Grab yours today!